Good Shepherd Bilingual School
Education, quality education, is essential to developing and maintaining empowered, confident, healthy, successful communities. In 2012, with the support of the Intibucá frontier community and the Good Shepherd community in Cincinnati, we broke ground on the Good Shepherd Bilingual School.
Click Here to Sponsor a Child Today
Building Excellence in Education
Click the school house below to help us build three new classrooms.
---
Why Create a Bilingual School?
Honduras does not legally require children to continue school beyond the sixth grade. In rural Intibucá, over 60% of children leave school before reaching the seventh grade in order to support financially struggling families. Shoulder to Shoulder's scholarship program has enabled many struggling families to keep their children in school through high school and even unto college level education.
Learn more about the construction and development of the bilingual school.
Still, the quality of education at the primary level is poor. Without the ability to pay for private education, children from poor families are not able to succeed even if they are fortunate enough to attend school. Shoulder to Shoulder, The Good Shepherd community of Cincinnati, and the Intibucá frontier community has created the first public, quality, bilingual school in Honduras. The Good Shepherd Bilingual School prepares children for successful careers and provides hope for the transformation of a culture of poverty. For this to continue, the school and the children will need financial sponsors.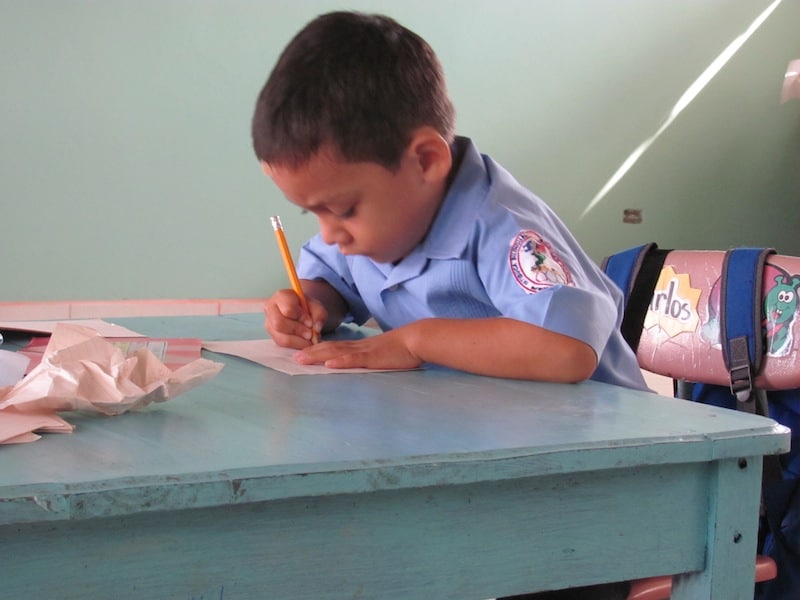 Why Your Support is Critical
At the Good Shepherd Bilingual School we are working toward keeping children in school longer, developing a lifelong love of learning, and providing the tools they need to be successful and strong members of the community. The children at our school have an unquenchable thirst for knowledge, but their families are not financially equipped to satisfy that thirst. Sponsoring a child helps ensure that the brightest children of Intibucá are provided the best education, regardless of their family's circumstances. The hope of a people is contained in the imagination of its youth!
See an incredible video on Camasca, the bilingual school and volunteering by volunteer Matt Tibbits: Changing Camasca 
---
How You Can Help
Your sponsorship provides quality educators, excellent classroom materials, superior language learning, and so much more. Through letters and updates about your sponsored child, you'll share in their success and be a part of their future. Sponsor a child at one of three levels:
Cum Laude at $35 / month.  
Magna Cum Laude at $70 / month.  
Summa Cum Laude at $100 / month.  
Learn more about our Child Sponsorship Program.
Are you in a position to give of your time, talent, and presence? Becoming a long-term volunteer could be the most meaningful and rewarding experience of your life. Learn more about becoming a long-term volunteer as a teacher's assistant. If you are a Honduran with fluency in English and teaching credentials, please send a cover letter and resume to paulandlaura@shouldertoshoulder.org.
Help us Build Excellence in Education. Give to our school building campaign today.